See link above.
Many of us do not vote for judges on the ballot because we do not know who they are. That's bad. We need the correct judges in office for the protection and advancement of progressive issues such as, Stopping voter suppression, Women's equality, LGBT Rights, Protection of the environment, Fair treatment of minorities, Women's choice, Consumer protection, Reasonable gun control, Removal of dark money from politics, and other important social issues.
If you agree with these basic concepts of decency and fairness, click on the tab, "California Judges," and vote as suggested. These recommended judges are the best suited to protect these interests and have been researched and approved by Jack Castiglione, Civil Rights Advocate.
Important: Send a link to this page to all your friends and contacts who are liberal or progressive.
Thank you,
Committee to Elect Progressive Judges
The Chartreuse Garden: The Horrific Murders of Innocents that Compelled Me to Fight Social Injustice and Hate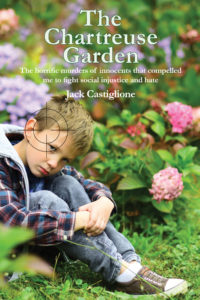 , by Jack Castiglione Amazon.com
Real people, struggling against insurmountable forces of injustice. Shocking murders. Extreme child abuse. Brutal assaults against gay men and lesbians. Police inaction. Jack Castiglione faces these challenges head on in a decisive way.
In this memoir, the author must choose between his comfortable but secret gay life and coming out publicly as a gay man in order to fight the brutality of hatred directed toward the most vulnerable in our society.
Barack Obama in a letter to Jack Castiglione, "Jack … Our journey as a nation depends, as it always has, on the persistent efforts of people like you – compassionate, caring, and open-minded – who stand up in defense of the notion that love is love and that all of us, no matter who we are or who we love, are worthy of equal dignity, equal respect, and equal protection under the law. … That is the vision for America that Michelle and I share. And I want you to know we will continue standing alongside you."
The Chartreuse Garden tells of Castiglione's growing up under the rules of his dominating and suppressive mother. During his young adulthood, he tried to sort out his sexuality, desiring to be straight. Then, an appalling, life-changing event. Roy, an impoverished little boy, begged Castiglione to protect him against those who bullied and beat him. "I will always be there for you, Roy," Castiglione promised his adoring, innocent buddy. He never believed Roy was in actual danger, nor anticipated the shocking events that followed.
Castiglione pledged to never again ignore a call for help. As he began to participate in the gay lifestyle, he became painfully aware of the beatings and murders of gay men in his community of Long Beach, CA, often perpetrated with impunity. He surrendered the security of his closet and publicly vowed to stop violent assaults against LGBTQ people. He had a surprising secret weapon, the chief of police.